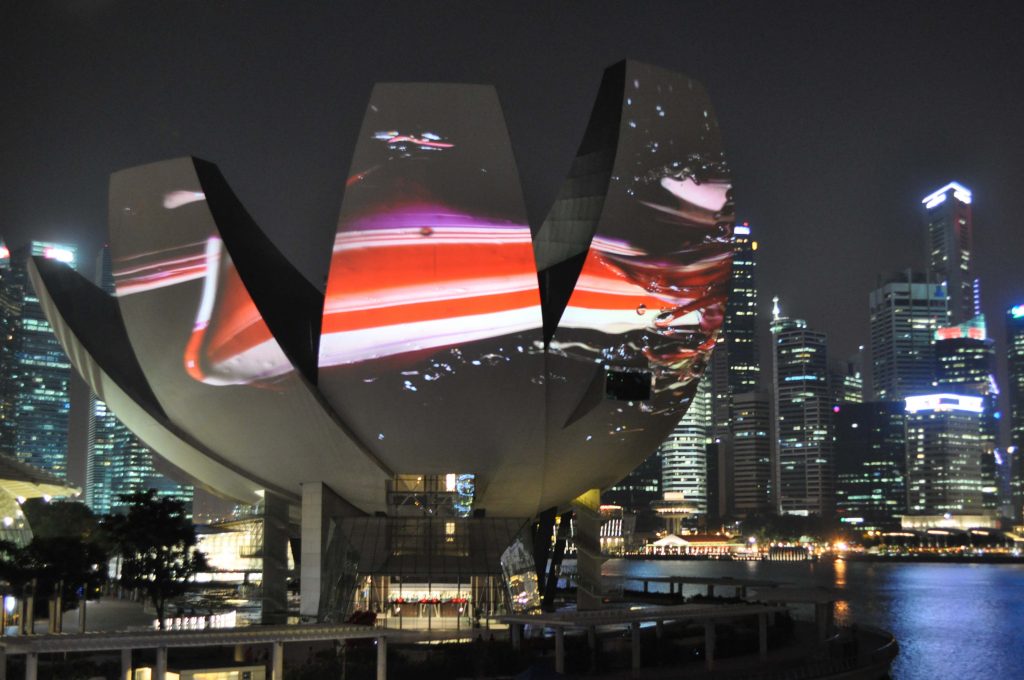 Information
In conjunction with an on-going exhibition, internationally-renowned media artist Naoko Tosa transforms Singapore's city skyline with an exterior projection on the ArtScience Museum façade.
ArtScience Museum at Marina Bay Sands
16-19 January 2014
"Sound of Ikebana"
the theme of four seasons inspired by different cultures showcases Japan's four seasons alongside strong artistic influences of the Rimpa School. Colours representative of China, Malaysia and India have been included to acknowledge the exhibition's staging in Asia.
Shot at 2,000 frames per second using high-speed photography, "Sound of Ikebana" is a series of videos that showcases vibrant images using various liquids (such as paints and oils) created from sound vibrations.
Dr. Tosa's artworks reflects her strong interest in Japanese traditions and cultures through digital artwork, as seen in EXPO 2012 Korea's commission work "Four Gods: 四神旗." Dr. Tosa received a Ph.D, in Art and Technology Research from the University of Tokyo, and was a fellow at the Centre for Advanced Visual Studies at Massachusetts Institute of Technology (MIT) from 2002 to 2004. She is currently a professor at Kyoto University. Public collection artwork at The Museum of Modern Art in New York.
NHK broadcasting
Special Thanks to
Mr.Rogen Ebihara (Japanese Calligrapher)
Mr. Yasushi Ozaki
Mr. Jun Miyasaka